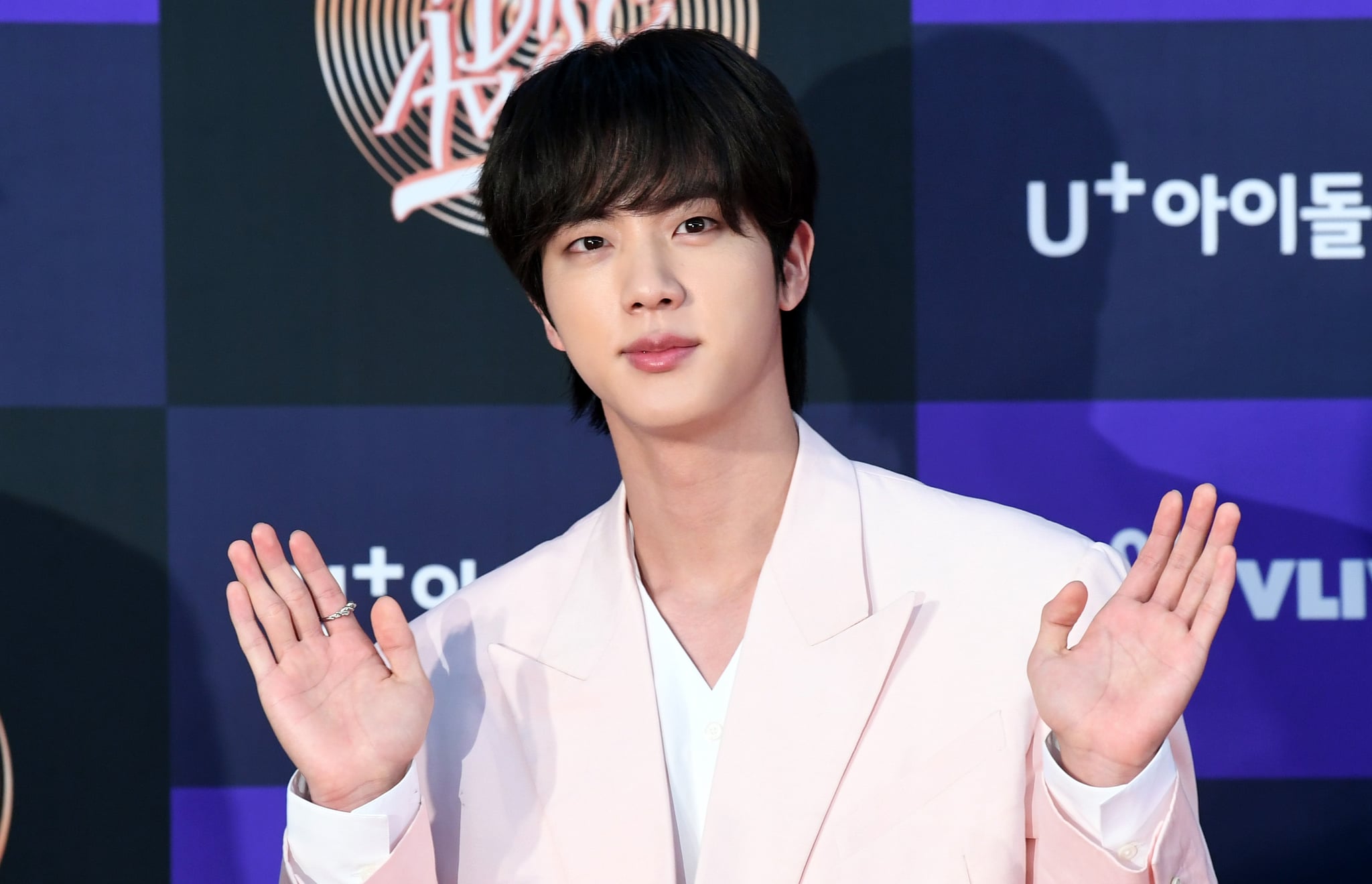 Image Source: Getty / THE FACT / Imazins
The time for BTS's oldest member, Jin, to enlist in South Korea's military — as all able-bodied Korean men of a certain age must — has come. It's a bittersweet moment for BTS and their fans, as he'll be separated from his bandmates and ARMYs for just under two years as he completes his service. That's seemingly why Jin is leaving fans with the most thoughtful gift to thank them in advance for their steadfast dedication as they wait for his return: his first official solo single.
On Aug. 18, just a day after Big Hit Music confirmed each member of BTS will enlist in the Korean military starting with Jin at the end of October, it announced Jin will also release a solo single he cowrote with Coldplay. While Jin has released solo songs as part of BTS's albums, on special occasions, and just for fun (we're still jamming out to "Super Tuna"), "The Astronaut" will mark his first official solo musical endeavor.
"BTS member Jin's first official solo single, 'The Astronaut,' will be released. . . . Since it's a song made with so much love toward the fans, we hope 'The Astronaut" can be a gift to all of you,'" the Weverse announcement read. "We also prepared various promotions for the fans throughout the preparation process of this single. Please show a lot of anticipation and support for this promotion, where you can meet various sides of Jin."
One of those various sides will be displayed when Jin hits the stage to perform "The Astronaut" with Coldplay in Argentina, which Jin announced on Oct. 20 through screenshots of a sweet text message exchange with Chris Martin on Twitter.
Read on to learn everything there is to know about Jin's new single "The Astronaut" and how you can support it (including watching it from your hometown).
Jin's "The Astronaut" Performance
Jin will perform "The Astronaut" for the first time alongside Coldplay at their live concert in Buenos Aires, Argentina, on Oct. 28. The co-writers made the announcement on Oct. 20 by sharing a text message exchange where they planned the collab.
"I heard that you announced your single, that's so cool," Martin wrote to Jin. "If you can get permission, would you like to come to Argentina next week and sing 'The Astronaut' live with us? We have a live broadcast on October 28, and if you were there we could play the song for the first time." Apparently, Jin played a big role in the creation of the song from the start, as Martin added, "Thankyou for inspiring the song. When we spoke about you having to leave for a while and missing the band and your fans, it was really powerful. I think the song found its way because of that conversation."
Jin responded with an enthusiastic yes, responding, "Thank you so much for working so closely on this song with me, and listening to my opinions every step of the way. I feel super honored to have worked with you, my superstar, my bro. And performing this song in Argentina sounds amazing! I will make it happen no matter what because you are my superstar."
Jin said he would begin preparing for his trip to Argentina now, since it's 40-hour flight from Korea.
💌A new message has arrived from Chris Martin for Kim Seokjin.
🧑‍🎤 안녕, 내 동생 진!
👨‍🚀 Hey, my bro! My Superstar💜#진 #Jin #TheAstronaut #JinXColdplay @Coldplay pic.twitter.com/h6LODffCyI

— BTS_official (@bts_bighit) October 20, 2022
How to See Jin and Coldplay's "The Astronaut" Performance in Theaters
If you can't make your way to Argentina in person in a week, don't worry. Coldplay's concert will air live in theaters throughout the U.S. on Oct. 28. For tickets and showtimes in your area, visit the Colplay Cinema website.
Jin's "The Astronaut" Poster
The poster for Jin's "The Astronaut" was shared on BTS's Twitter on Oct. 18. Fittingly, it's a simple image of a huge galaxy of stars.
'The Astronaut' Poster

2022.10. 28. 1PM (KST) | 12AM (ET)
Co-written by Jin x @Coldplay #진 #Jin #TheAstronaut #JinXColdplay pic.twitter.com/wKkCnxiD1J

— BIGHIT MUSIC (@BIGHIT_MUSIC) October 19, 2022
Jin's "The Astronaut" Teaser
On Oct. 18, a video was posted to BTS's Twitter featuring a lone astronaut (seemingly representing Jin) floating endlessly through space before reaching a beautiful, blinding light.
The Astronaut
2022.10. 28. 1PM (KST)

👨‍🚀 https://t.co/C9HTwK7ove#진 #Jin #TheAstronaut pic.twitter.com/sOxcYyf6aQ

— BIGHIT MUSIC (@BIGHIT_MUSIC) October 18, 2022
Jin's "The Astronaut" Release Date
"The Astronaut" is set to release digitally everywhere on Oct. 28. If you order the physical album from US retailers, however, it will ship on Dec. 2.
How to Preorder Jin's "The Astronaut" Physical CD
You can preorder the CD for "The Astronaut" (which is available in two versions) for $16-$20 through the following US retailers: BTS's official store, Target, Weverse, and Amazon. All digital and physical sales (from US retailers) will count toward the Billboard charts.
What Does Jin's "The Astronaut" Physical CD Come With?
As Big Hit promised, Jin prepared all of the goodies ARMYs have come to expect from BTS's releases. Both versions of the album will come with:
Out Cover (one of two versions)
Booklet (one of two versions)
Lyric Card
Postcard (one of two versions)
Poster (one of two versions)
Seal Sticker (two of eight versions)
Graphic Sticker
Photocard (one of two per version)
CD-R (one of two versions)
Image Source: Getty / Kevin Winter / Getty Images for MRC